Google My business is a remarkable free tool for increasing your business profile searches and insights on Google.When you create a business profile it is managed by Google My Business Tool, which helps it to appear in local results of Google search.
If you have an old business, a Google business profile could prove a blessing for you to reach organic clients. Below is the image of business profile.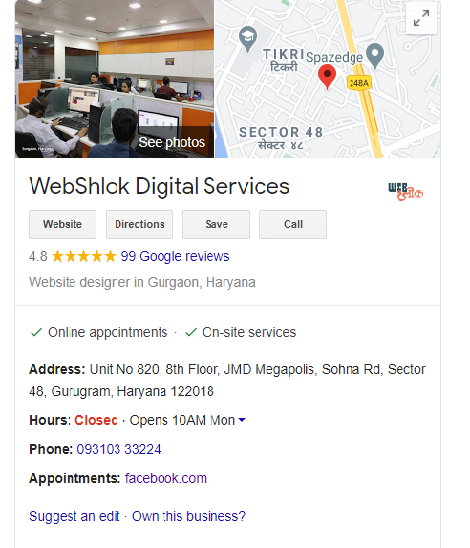 What are the benefits of creating a Google My Business account?
Claim ownership of your business.
Attain management right to it.
Free features to increase online visibility.
How Google My business works?
The business profile starts with registering a new account, similar to creating an ordinary account like a gmail. You register your business name, location, and category. Google verifies the authenticity of the business and creates a business profile in that location.
Your Google My Business account gives you all the practical options to advertise your business like photos, websites, products, and services. Below is the image of Google My business account.
These features, when you get updated, the business profile gives your customer an option to ask or review on your business profile.
With this, more people get to know about your business and reach your profile.
One thing you must note, a business profile exists on its own. But to make changes to your profile like replying to client's reviews and questions, you need to create Google My Business
How To Use Google My Business Tool?
A free tool to shape your business in such a way becomes the lead generator for your business if you manage to use its features proficiently.
Sign into the Google account, you want to associate with your business account.
Go to google.com/business and select "Start now" in the top right corner.
Enter your business name and address.
In the address section, there will be two options: if you deliver products, let your address be visible to customers, and if you work from one location and don't wish to show the address, you may also hide it.
Choose your most accurate business category as you are letting Google know what type of clients category you are looking for.
Add your business phone number and website.
Choose a verification option for your business accounts like phone, postcard, email, Instant, or bulk verification.
Verifying a postcard by mail is a default option. If your business is eligible for more options like phone or email, you may use these options to verify your business.
The postcard will take a couple of days to two weeks to arrive. Sign in and click Verify Place on the menu when you receive your postcard. Enter your postcard's five-digit verification code.
Note: Your company listing can take a few weeks to appear on Google. Download the Google My Company app while you wait so that you can track your account.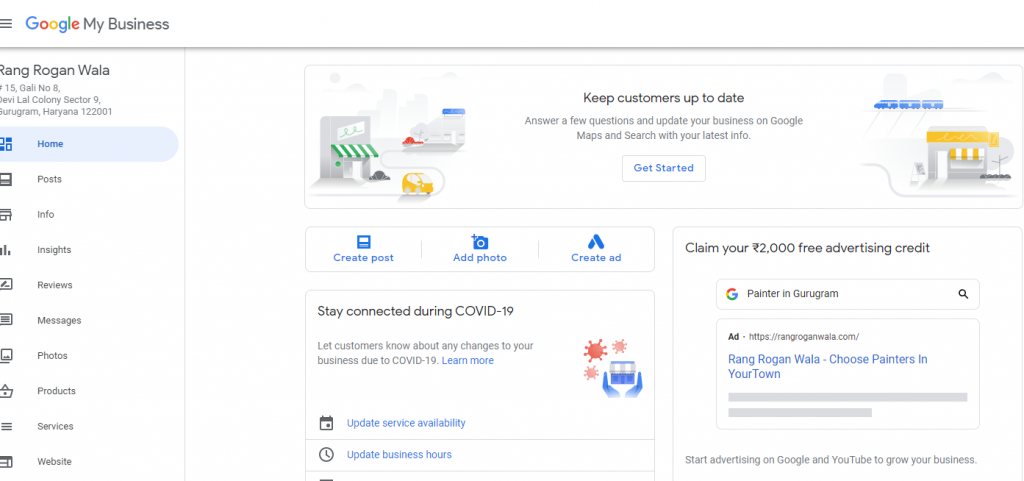 How to claim your business?
Need to authenticate a current business profile for Google?
Three options are available:
Choice 1:
Sign up or log in for Google My Business.
Search for and select your business.
Follow these steps to confirm that you are the owner.
Choice 2: Locate your business listing in Maps, and select Manage the listing.
Choice 3: In Google Search, look up the business listing and click own this Business?
I hope reading this blog has given you an insight into how to sign-in and take the benefits of Google my Business.
Yet, despite knowing the above information, the free-to-use Google My Business platform failed to benefit many businesses.
There are many perks in setting up Google My business, so if you consider creating a listing for your business or exploring the best ways to improve your local presence. Please click here to know in steps about how a business listing can change your business's scenario.